Hello everyone! Today I've got a guest post from our friends at Arkansas Women Bloggers!
—————————————————————————————–
If you are familiar with blogs and have been reading locally written blogs you may have seen this logo: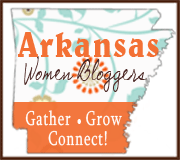 If you haven't seen it, chances are that you will soon because Arkansas Women Bloggers has almost 300 members and is growing daily!
So what exactly is Arkansas Women Bloggers? We are the gathering place to make friends with other Arkansas women bloggers, share stories and experiences and be inspired!
The idea for Arkansas Women Bloggers was born in November of 2009 after our founder, Stephanie Buckley (aka The Park Wife), stood in an hours long line in a central-Arkansas Walmart to meet the Pioneer Women, Ree Drummond. Introductions were made and friendships began to form between Stephanie and other "P-dub" fans, many of them bloggers, as the line slowly snaked through the store. With an autographed book in hand and a camera full of memories Stephanie returned home to find herself contemplating a better way to keep in touch with other bloggers here in Arkansas. Stephanie enlisted the help of her friends Fawn, Julie and Beth and launched a dream and a website.
Our first gathering in Little Rock in December 2010 attracted almost 50 women and just as many (most of them different women) attended our first Unplugged conference in Northwest Arkansas last June. On August 24 – 26, 2012 more than 75 bloggers will convene upon the Ozark Folk Center in Mountain View for our second annual Arkansas Women Bloggers Unplugged Conference (AWBU) presented by Healthy Families.
The AWBU 2012 conference will kick off at noon on Friday with an optional Foodie Friday segment. Aimed at foodie bloggers but open to everyone, this segment will focus on food photography, styling and prep and will address best practices for developing strong foodie content. The whole group will join together Friday evening to enjoy writing and storytelling workshops plus plenty of time to begin developing friendships.
Saturday, attendees will participate in a variety of workshops and will enjoy a session with our keynote speaker, Lela Davidson, blogger at After the Bubbly and author of Blacklisted from the PTA in addition to a "Sheep to Bead" crafting session with Jeanette Larson. The evening will be capped off with a cookout and camaraderie complete with a jig dancing lesson led by fiddle and jig dancing sensation, thirteen year old, Clancey Ferguson.
The conference will conclude Sunday morning after a final workshop session and brunch. Several Ozark Folk Center crafters are also making available optional workshops in embroidery, soapmaking, pottery and broommaking. Please visit Arkansas Women Bloggers for a working Foodie Friday Agenda and Conference Agenda.
Thanks to our wonderful sponsors (Healthy Families, Country Outfitter, Petit Jean Meats, and Women's Foundation of Arkansas) we have a ton of extra "surprises" up our sleeves. Additionally, all attendees who register before August 10th are eligible to receive TWO free pairs of boots from County Outfitter, one to keep and one to give away on her blog! You can read more about the boot promotion here.
Registration is open through August 15th and while there are still a few spots left they are going fast. You can get in on the fun by going to our registration page. Registration is $150 for the conference only. Lodging, Foodie Friday and crafting sessions are an additional charge.
If you can't attend the conference but are a women blogger or wanna be blogger in Arkansas (or beyond!) we would still love for you to be a part of our group. ARWB is FREE to join and all you have to do is fill out a simple form. Once you have joined we will list your blog on our website and you will be eligible to benefit from the community of women we have formed. With that may come blogger opportunities, conferences, meetups, and lifelong friendships. If you are interested in a place where you can GATHER with other like-minded women, GROW as a blogger and CONNECT with businesses looking to harness the power of women bloggers in Arkansas than Arkansas Women Bloggers is the place for you.
If you are a business leader interested in connecting with our amazing group of ladies please contact one of the members of our leadership team for more information about how you can get involved with this powerful and influential group.
Contact Information: Arkansas Women Bloggers (ARWB) Leadership Team
Stephanie Buckley – The Park Wife (870.214.2295 or stephanie@arkansaswomenbloggers.com)
Julie Kohl – Eggs & Herbs (501.278.9601 or julie@arkansaswomenbloggers.com)
Beth Stephens – Little Magpie (479.936.0253 or beth@arkansaswomenblogger.com)
Click to Register for AWBU 2012. Registration ends August 15th.